Dear friends, today we release an update for our Android app. Meet version 2.0!
We have greatly improved Adguard, the app now has many new useful features. Let's take a closer look at what has changed.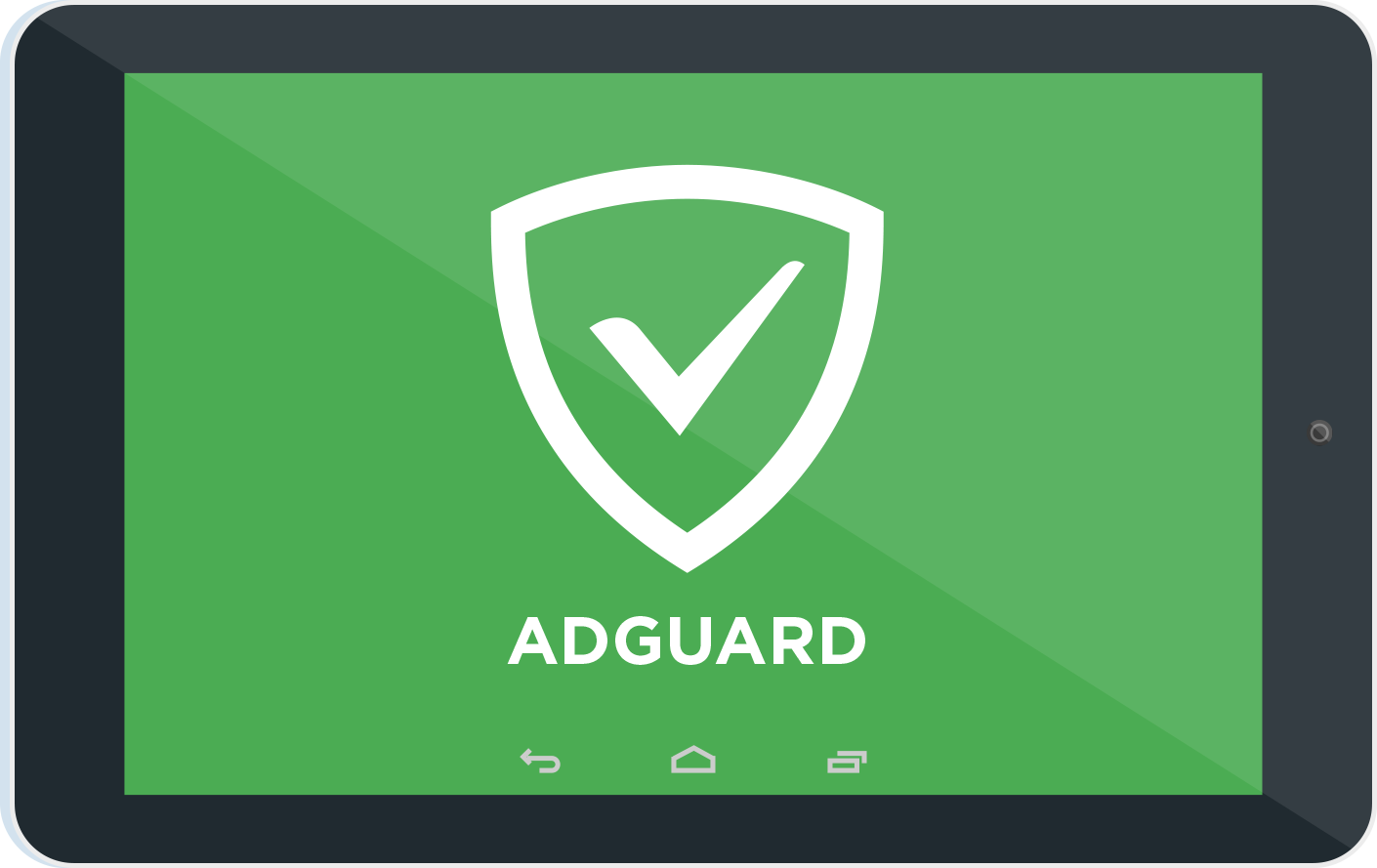 ---
New design
We have switched to the Material design. Now Adguard is consistent and even more handsome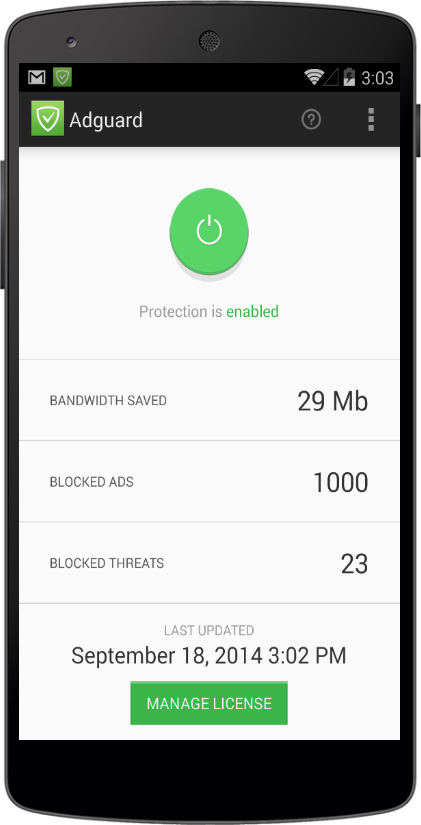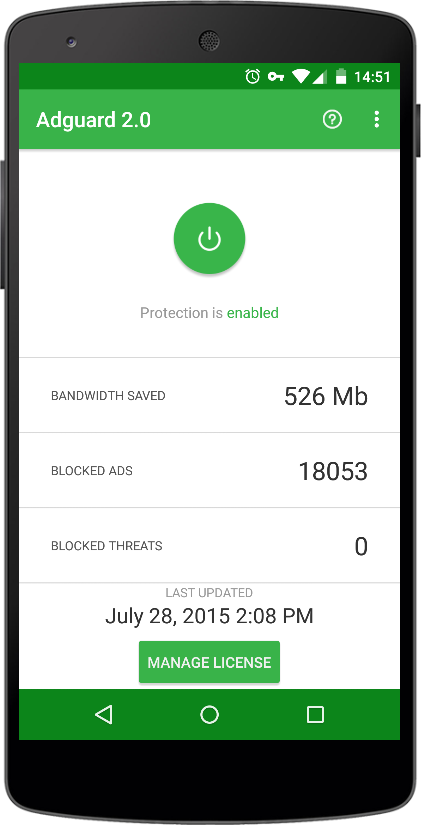 ---
Firewall
We have already told you about the major change that is included in this version – Adguard's own Firewall.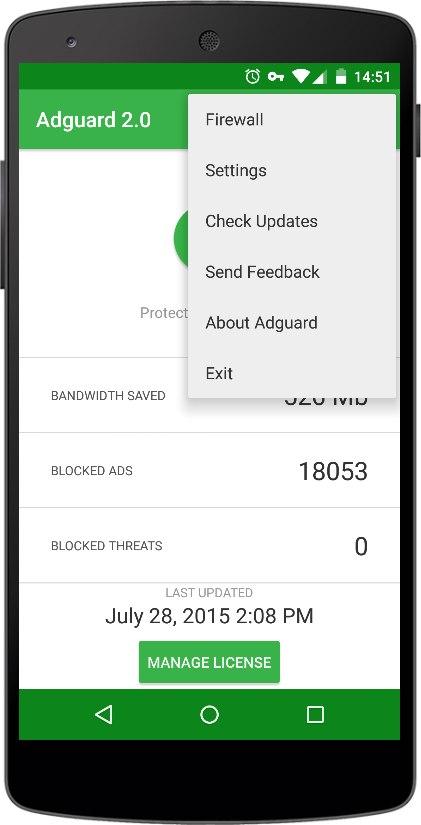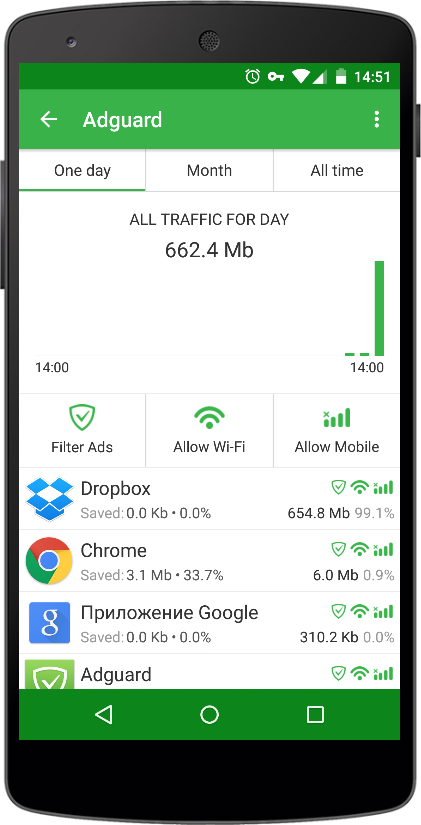 In short, this function enables you to control apps access to the Internet and their filtering. In fact now you can prohibit or allow specific apps to go online and thus prohibit transmitting your personal data.
---
App traffic monitoring system
With the new monitoring system you can follow the consumption of traffic in real-time.
Adguard will show you which apps consume resources at the moment, and demonstrate the used traffic for day, month or all-time.
---
Other updates
+ Added IPv6 filtering support – This protocol is slowly but surely being implemented everywhere. You may not know that your provider introduced it, and we have already added its support in VPN mode. Just keep using Adguard as if nothing has changed.
+Added module for blocking advertising domains byDNS (can be found in advanced settings) – DNS filtering consists in Adguard intercepting requests to the DNS server, which let the program know where the particular domain is, at what IP address. If requests to the domain should be blocked, then Adguard returns the special blocking response with a lifetime of 1 hour. During this hour, the program will no longer send requests to the DNS server, so the load will be reduced accordingly.
This method has several problems:
1. Incorrect statistics on the blocked requests because of the fact that within an hour, we will not receive queries on the blocked domain.
2. We can not identify the app that sent a DNS query. Therefore, disabling of ad filtering for applications will no longer work.
+Added support for Chrome Dev, NoChromo and other browsers - Number of browsers for Android is increasing every day. And we are constantly adding them to Adguard.
* Redesigned interface of the user filter and whitelist.
*+ Added the import for userlists from a file * – With the new Import button you can add the list of rules using its URL or by uploading a local file. It's much easier.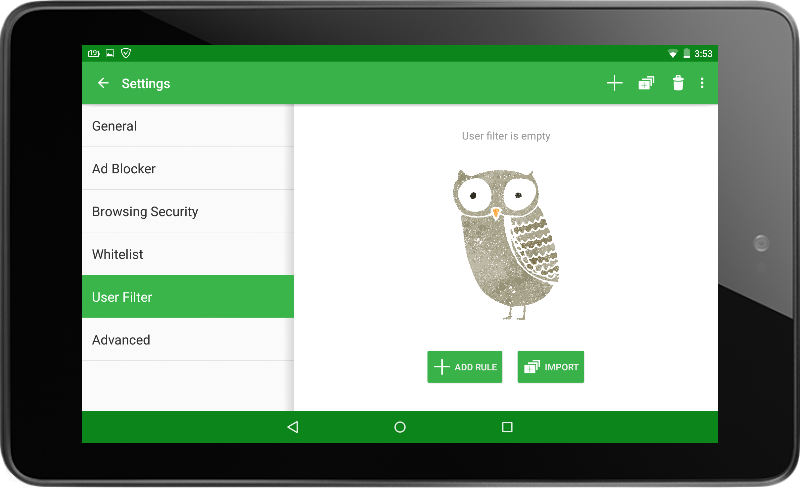 * Remarkably redesigned UDP and TCP connections handling, which led to the load reduction and increase of concurrent connections number.
* Fixed problem with TCP-stack when downloading large files – Download of large files (from Google Play and other) is finally possible.
+ Implemented blocking of QUIC protocol in Google Chrome *- *This is another protocol from Google, TCP/IP "killer". Google servers are working based on it, and also with its help Google Chrome loads banners and text ads. At the moment, the use of this protocol gives no significant advantage to the user, therefore in order to keep the pages clean from banners and other unnecessary information we decided to block this protocol.
*+ Added simplified filtering mode (without cosmetic rules) *- This mode will be useful for the slowest devices limited by memory and CPU resources. Banners are also wonderfully blocked, but once they are blocked, there will be "holes" that are usually hidden by some cosmetic rules that are present in other modes of filtering.
* Fixed an issue where the service couldn't start after a few shutdowns of the system (often on phones with a lack of memory).
* Fixed problem with sending MMS through Verizon operator.
* Fixed sending SMS for T-Mobile users.
* Fixed bugs related to the app lifecycle – **We have redesigned the mechanism of start and stop of the service, and now it will run without all the failures that occurred in the different versions of operating systems and under different amounts of RAM.
* Added Polish, Armenian, Korean, Italian, Indonesian and Simplified Chinese localizations **- In recent months, we have received many offers to help with the translation of the program into different languages, so new localizations will be added on a regular basis. If you're fluent in a language that has not been added to Adguard yet, and if you're willing to help with the translation – we welcome you to the team of interpreters, it is not difficult at all
* Added new icons for different application states **- Notifications in Android are an important element that allows to stay tuned and be aware of what is happening not only in social networks, but also on the device itself. Our notifications became more vivid with new icons of pause, available update, or when a conflicting app is found on the device.
* Now there is no colored icon in Lollipop- In successive development sometimes you need to sacrifice something. In new Android version Google has released a new design requirements, and when we assembled Adguard for the new system while using new technologies, a color icon was "damaged" by assembly tools. Therefore, we had to abandon the colored icon in the Android Lollipop notification (5.0+).
* Added a small widget *allowing one-click control for the ad-protection *- Enabling/disabling of the app is now possible when tapping on the widget. Since widgets can be in various styles, and it is impossible to please everyone, we made Adguard widget similar to system power saving widget.
* New Opera Max added in exceptions *- *Now it is possible to use this app alongside Adguard in proxy mode.
* Improved restarting protection after reconnecting to the network.
* Use of system Intents to manage the service from other programs is now allowed - With the help of Tasker program (and such) you can now adjust automatic enabling/disabling of Adguard under set conditions (for example, Adguard can be started when you open the browser and turned off when the browser is closed)."
* * Several improvements in program interface.*
As you can see, we continue to extend Adguard with new features to ensure the highest level of protection. Upgrade to the version 2.0 or download Adguard for Android and check out the new features.
Waiting for your feedback. We always welcome your suggestions for Adguard improvement
UPD October 14, 2015: We have already released version 2.1, have a look at what has changed.
UPD October 14, 2015: We made Adguard available to download on Amazon Appstore. It has an option of monthly subscription along with usual license-based operation. And, of course, the base functional like in-browser filtering or Firewall is free.
UPD October 26, 2015: here is an improved patch for 2.1.
Sincerely,
Adguard team